Self Help Graphics & Art is undergoing leasehold improvements, and its offices are closed during this time. However, we are still operating offsite. We are here to answer any inquiries or questions you may have, so please call us at 323-881-6444 or email  This e-mail address is being protected from spambots. You need JavaScript enabled to view it


SUPPORT SELF HELP GRAPHICS & ART!
ART CAN TRANSFORM COMMUNITIES, for 40 plus years Self Help Graphics & Art has served as a conduit for creativity and social change, benefiting our artists and communities. Today, more than ever, art is one of the most important driving forces behind our social justice movements and we need you to join us in helping Self Help Graphics & Art continue to be a leader in nurturing emerging artists, whether they are 8 or 80 years old - artists who serve as mediums to help transform our communities.
Self Help Graphics & Art serves it's mission by providing a support system and fostering opportunities for emerging artists that engages communities at a local level, as well as internationally. Join the team and support Self Help Graphics & Art by donating today.
2014 HIGHLIGHTS
Relaunch of the Barrio Mobile Art Studio (through an Irvine Foundation Grant)
Futbol, The Beautiful Game, 5 print special project for LACMA
Launched the RAICES: Residents and Artists Investing in Community development & Empowerment Strategies collaborative (through a grant by The California Endowment)
Reflejos y Regalos de East Los - a public art project (partially funded by the Pasadena Arts Alliance)
Noche de Ofrenda at Grand Park (50 Altars by by local partners, community based organizations, and artists)
Dia de los Muertos - attendees and artists alike praised the turnout and event setup, claiming that it felt like home.
Launch of the Boyle Heights for Youth campaign pushing for a Youth development Department
Participant in the Los Angeles Islam Arts Initiative
COMING UP IN 2015
C/S Print Atelier (L.A. River Project)

RAICES Print Mini Atelier

Barrio Mobile Art Studio Workshops

SOY Artista (Youth Workshops) expansion

and more...
SELF HELP GRAPHICS & ART'S
ANNUAL HOLIDAY MARKETPLACE

ART - GIFTS - MUSIC - FOOD - WORKSHOPS
Saturday, December 6, 2014
12PM to 5PM | FREE
1645 East 6th Street,
Boyle Heights, CA 90023 (map)
The Annual Holiday Marketplace (formerly the Annual Craft and Art Fair) - is a day to get your Holiday shopping on! High quality crafts, food and fine art from a specially curated group of local vendors and artists, including serigraphs from Self Help Graphics & Arts print collection!
Featuring Demos, Workshops and Artist Talks.
Support your local artists and small businesses!!!
LIKE TO LEAD AND PASSIONATE ABOUT ART?
JOIN SELF HELP GRAPHICS & ART'S
BOARD OF DIRECTORS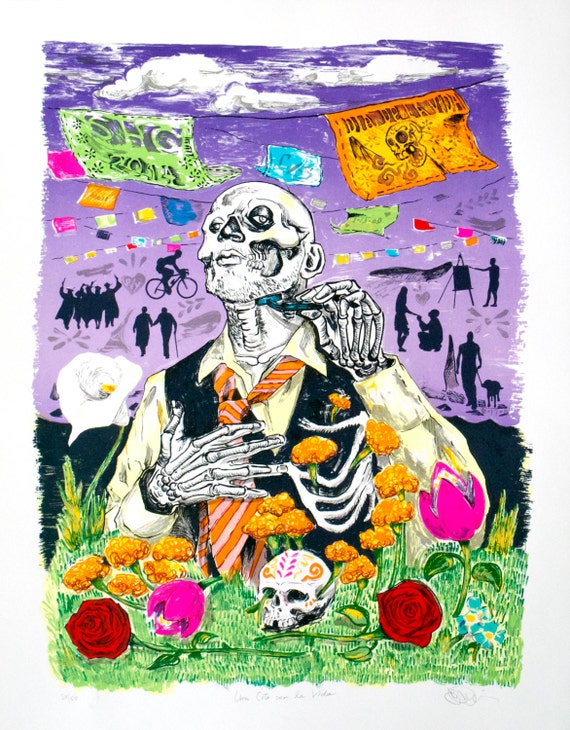 Self Help Graphics & Art is seeking candidates for the Board of Directors with financial backgrounds. We are looking for board members that could serve on the Finance Committee that have professional financial skills and characteristics that include:
* Financial Knowledge - Thorough understanding of financial reports and reporting, with some knowledge of nonprofit financial terminology and requirements.
* Communications - Able to translate financial information and financial concepts for the board. At times be able to present financial reports at board meetings, and explain and/or re-frame information for the board. Interpret and translate board questions, goals, and/or concerns about the financial information or financial situation to staff.
* Planning - Partner with the Executive Director, Bookkeeper and Accountant to develop annual budgets and cash flow reporting. Conduct budget discussions and convey budget information to the board. Assure budget priorities and decisions reflect the intentions and objectives of the board.
* Strategy - Working with the Executive Director, assess, analyze and create financial options and decisions for long-term goals and initiate discussions to connect finance and mission. For more information, please email This e-mail address is being protected from spambots. You need JavaScript enabled to view it
IM

PORTANT LEASEHOLD IMPROVEMENTS
& FACILITY UPDATE
Self Help Graphics & Art is beginning facility leasehold improvements, and will the administrative be periodically closed during this time. We are still here to answer any inquiries or questions you may have, so please call us at 323-881-6444 or email This e-mail address is being protected from spambots. You need JavaScript enabled to view it .
Self Help Graphics & Art will premiere its revamped space with the launch of a special 40th annual special prints exhibition with a date soon to be announced.
Select programming will continue at alternate sites during this time.